Residential & Commercial Garage Door Openers
Locally Owned and Operated | Free Estimates
Call Today for FREE Estimates
740-264-4362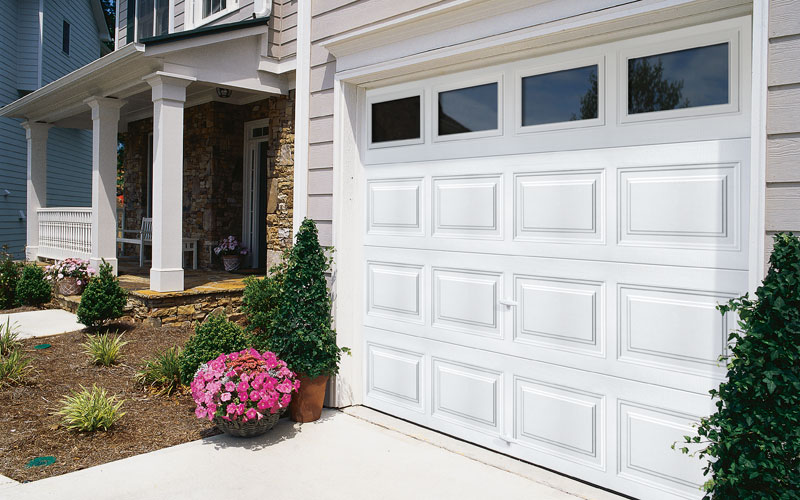 Affordable Garage Door Openers
Is your garage door giving you problems? If you are having difficulty opening or closing your garage door properly or just having a problem with the garage door opener, contact the door installers at Wayne Door Sales for quality garage door repair and maintenance services. We work with all major brands of garage door openers including Genie, Liftmaster, Chamberlain, Craftsman, Sears, Allister, Linear, Sommer, Guardian and Marantec.
State-Of-The-Art Door Product and Accessories from Genie
We offer professional series Genie Operators. Our professional installers can meet with you and find the right fit for your lifestyle. You decide on wifi access and battery backup. We offer chain, belt, and screw drive models.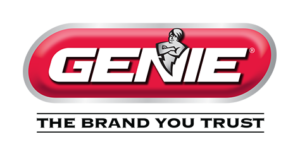 Genie Garage Door Openers Feature
Safe-T-Beam® Non-Contact Reversing System

Puts an invisible beam across the door opening. The door stops and reverses to open position if anything passes through the beam.

GenieSense™ Monitoring and Diagnostic Technology

Provides safety by continuously monitoring operation of the door, stopping the operation to alert you when significant changes occur.

IntelliCode® Access Security System

Superior encryption technology (also known as rolling codes) that prevents piracy of the radio signal that opens your garage door by continually seeking a new code from billions of combinations.

HomeLink® & Car2U® Compatibility

Works with ALL HomeLink and Car2U systems regardless of when those systems were made. No additional external repeater box or compatibility bridge needed.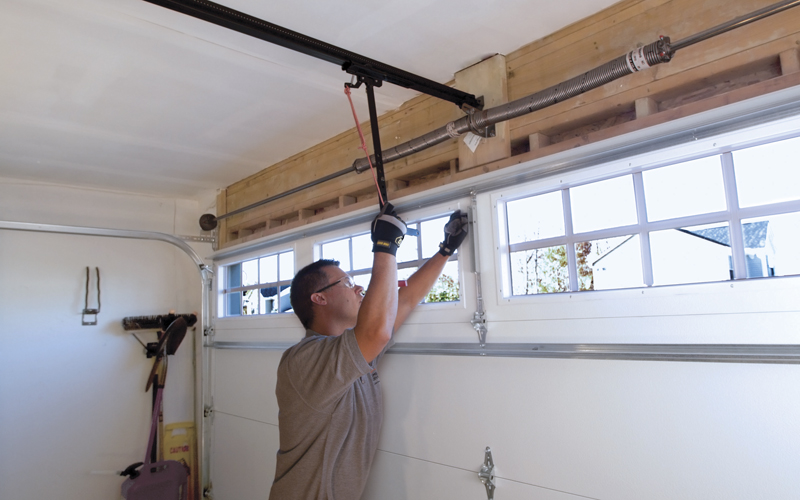 High-Tech Door Technology From LiftMaster
LiftMaster provides highly safe and secure garage door products by employing latest technologies. All the products are smart, quiet, and energy efficient.

3-Button Remote Control: Allows you to control up to three garage door openers, gate operators, or MyQ-enabled light devices.
Multi-Function Control Panel: Enables you to turn garage door opener lights on and off from inside the garage.
LiftMaster Internet Gateway: Connect your MyQ-enabled garage door opener and accessories to the Internet with this device.
Ceiling Mount: Give your garage the style it's been missing by hiding the wires and cords with this sleep ceiling mount. Works in most standard garages.
Remove Light Control: Allows you to control any lamp with your garage door opener remote control or smartphone via the LiftMaster Internet Gateway.
Garage and Gate Monitor: Enables you to monitor and close up to four garage doors or gates from any room in your house.
MyQ® technology enables you to securely monitor and control your garage door opener and houselights with your smartphone, tablet, or computer.

Alerts can be received as e-mail or pop-up (push) notifications on your mobile device so that you always know the status of your garage door and houselights.

MyQ mobile app is a free download requiring no annual activation fee.
P3™ Motors from LiftMaster® are reliable, durable, and powerful – designed specifically for your needs.

1/2 HP motor with belt drive system provides quiet, reliable, and maintenance-free performance.

Motor Vibration Isolation System (MVIS®) provides super quiet, smooth operation year after year.

Energy-efficient operation consumes up to 75% less power in standby mode.

Lifetime motor and belt warranty, and a 1-year parts warranty.
Security+ 2.0™ safeguards your household – with every click a new code is sent to the garage door opener so that the door opens only for you.

PosiLock® locks down your door by electronically monitoring against a forced opening.

Alert-2-Close warning system provides audible and visual warnings when the garage door is about to close when using MyQ technology or Timer-to-Close.


The Protector System® has safety sensors that project a light beam across the garage door opening, automatically reversing the door if anything interrupts the beam.
At LiftMaster, safety is a major part of our mission. It's our commitment to you and, quite simply, the way we produce products every day. Our LiftMaster products are designed to move the largest door in your home, safely and securely.